Main content starts here, tab to start navigating
Meet the Chef
Slide 1 of 5
Slide 2 of 5
Slide 3 of 5
Slide 4 of 5
Slide 5 of 5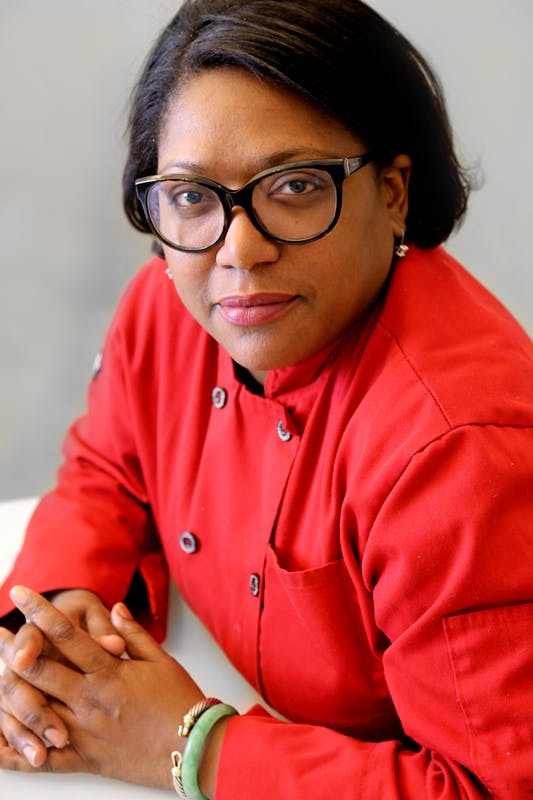 My Passion is On the Plate
My food has heart and SOUL. Seasonal, Organic, Unexpected and Local. And like my second love [fashion], each dish is layered, complex, and inspired by travel.
Kym's Story
From early days "tearing it up" with her Easy-Bake Oven – "You mean I can have cake in my room—all the time—and all I need is a light bulb?" – to late night feasts with fellow U.C. fashion majors, to dishing up comfort food to touring punk bands, cooking has always been Wilbon's first love.
But it was her other passion – fashion – which led to a decade in New York City, where she worked in the garment and music industries by day and played in Manhattan's hippest clubs by night. When not zipped into Gaultier and hanging at the Palladium, Wilbon baked fashionista birthday cakes, fed bands at upstate recording sessions, and catered record exec Superbowl parties. "I knew my jambalaya was a hit when two rockers with pierced eyebrows licked the pot!"
Fate and food led to hostess gigs at some of New York's hottest restaurants, but it was Wilbon's love for the back-of-the-house, that steered her toward a degree in Restaurant Management / Culinary Arts from The New York Restaurant School. Returning to Cincinnati to be closer to her family, she worked in restaurant management positions at several hotels, including the Cincinnati Hyatt Regency; cooked at CoCo and was a sous chef at Otto's; and opened McCormick and Schmick's.
Though it was great experience, Wilbon says, "I felt like something was missing. I knew I loved to cook and host great dinner parties. One day it all connected and I decided: That's it – I want to be a personal chef!" She enrolled at the highly regarded Culinary Business Academy, earned her USPCA (United States Personal Chef Association) membership, and Kymberly Wilbon's The Passion Plate was born.